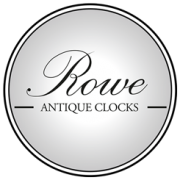 Clocks For Sale
Rowe Antique Clocks  have a variety of clocks for sale.   Please browse through our For Sale section.  Further images and detail pertaining to each clock may be found when you select the clock image that you are interested in.
If you are interested in purchasing any of these clocks or have any questions regarding them, please contact Mark Rowe.
Share our details with your friends and family should you find something exceptional.
LONGCASE (GRANDFATHER) ()