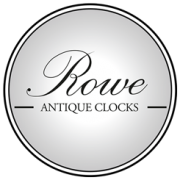 Before repair
The decision to service, repair or restore any antique clock, whether it is the dial face or the external or internal parts of the clock, should not be taken lightly.
There are a number of factors that the Horologist will take into consideration, such as:
the overall condition of the clock
the frailty of the antique clock
transport requirements (for example, grandfather clocks may require specialist transportation to relocate them for repair)
house moves
insurance
skills, tools and maintenance
the expertise and integrity of the Horologist
Please contact Rowe Antique Clocks to discuss any repair requirements on telephone number: 020 8605 0331.
The Repair Process
When inspecting an antique clock or watch for the first time, there are a few rudimentary tasks that Rowe Antique Clocks undertakes:
inspecting and taking apart watches or clocks to identify faults
service history
cleaning and oiling parts
making new parts to replace worn ones
checking for accuracy
Lathes, jeweling tools, heat treatment equipment and hand tools (tweezers, spring hole punch pliers, precision screwdrivers) are just some of the specialist tools available to the Horologist.
Before an antique clock is restored and conserved, the requirements of the work are fully communicated and discussed with the owner.
A suggested time period for the restoration work to be completed within is also discussed.
A quotation will be provided for all restorations and repairs to act as an informative, clear guide to the overall cost.
All work undertaken comes with a twelve month guarantee.
Please contact Rowe Antique Clocks to make an appointment for your antique clock to be serviced.
Mark Rowe may be contacted on: 020 8605 0331.