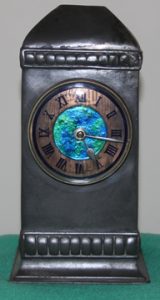 Liberty Mantel Clock 01034
The clock made for Liberty, London, is stamped "English Pewter Made by Liberty & Co 01034" to the base with an original Lenzkirch movement with cylinder platform, dates to approx 1910. The clock movement has been fully restored. The blue green enamel dial to the centre is surrounded by a copper chapter ring, with roman numerals, is also in very good original condition. The case is in good condition being hammered pewter with its lovely patina.
Should you require further information or images pertaining to this clock, please contact Rowe Antique Clocks on 020 8605 0331.