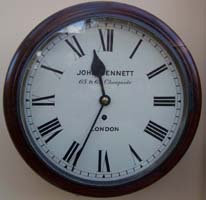 English Fusee 12
"

: Montevideo Railway, Uruguay

The English Fusee Dial Clock has an anchor escapement that was favoured in clocks of this type during the 19th and 20th centuries. It also has a heavy cast brass bezel. The clock is believed to date from 1880 as this is when according to "Post Office London Directories" identifies John Bennett, to have had premises at 64 & 65 Cheapside. The case is made of mahogany.

This clock is believed to be from the Montevideo Railway in Uruguay. The clock has been imported and has documentation regarding its history.
Should you require further information or images pertaining to this clock, please contact Rowe Antique Clocks telephonically on 020 8605 0331.