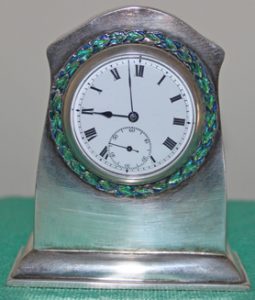 Silver Liberty Clock
The small hallmarked silver clock made for Liberty, London, is stamped "L&Co an anchor, lion and then the letter "K" to the base (London 1905) with an original movement. The clock movement has been fully restored. The blue green enamel surrounding the dial is in good condition with a couple of minor loses, with roman numerals, is also in very good original condition. The case is in good condition being solid silver. The original cardboard backing is a little tired.
Should you require further information or images pertaining to this clock, please contact Rowe Antique Clocks on 020 8605 0331.