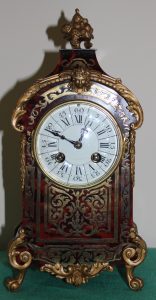 French Boulle Striking Clock
A French Boulle Striking clock with plinth. The movement with pendulum has been fully restored and strikes on a gong. The tortoiseshell is inlaid with brass on the case and is in excellent condition.
Should you require further information or images pertaining to this clock, please contact Rowe Antique Clocks on 020 8605 0331.