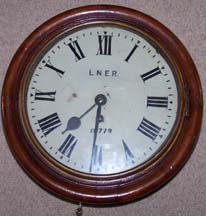 English Fusee 10
"

LNER Railway Dial Clock

The English Fusee 10" Dial Clock Number 10779 circa 1900, has an anchor escapement that was favoured in clocks of this type during the 20th centuries. It also has a spun brass bezel. It comes with the documentation when the clock was sold off by the railway company. The case is made of oak.
Should you require further information or images pertaining to this clock, please contact Rowe Antique Clocks on 020 8605 0331.